Mogadishu, Somalia's capital, has been described as the most dangerous city in the world. But some people there are trying to bring life back to the place. During her regular visits, BBC World Service Africa editor Mary Harper came to know one of them – an entrepreneur named Mohamed Mahamoud Sheikh. Then she received some bad news.
The last time I saw Mohamed, he gave me flowers. He chose one of the biggest and most colourful bunches from the display in his florist's shop. Next door, machines whirred at a dry cleaners – which also belonged to him.
Stopping off to see Mohamed was always one of my favourite things to do when I visited Mogadishu. While the world's media spoke of famine, pirates and suicide bombs, he quietly and determinedly got on with his life, bringing what many would see as entirely normal, mundane services back to his country.
He also encouraged others. He set up a community of people involved in start-ups, and became something of an inspirational figure – but always remained modest.
Lots of brave new businesses have sprung up, from the young man with a motorbike who has started a food delivery business to the girl who has set herself up as a mechanic.
Visiting Mohamed in Mogadishu was not entirely straightforward. As for all my other appointments in the city, I never fixed a precise time. Sometimes I would just show up outside the metal gates of the Somalia Premium Laundry on the busy Maka al-Mukarama road. I always travelled there with heavy security – at least six bodyguards in one vehicle, a couple more in the other.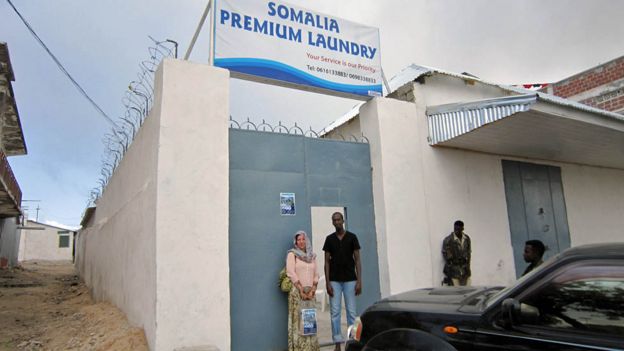 It is best to be unpredictable – people say phone calls are listened in on and that there are informants everywhere.
But taking care with information and security is no guarantee of safety.
Earlier this month, Mohamed was driving in his car in full daylight in a heavily guarded area, known as Kilometre Five. Two men appeared and shot him. This unassuming but influential young man died later in hospital.
So far, his murderers have not been caught.
Now Mohamed won't be able to realise the other dreams he told me about – of opening a gym, a playground for children, of growing all the flowers for his shop in the fertile fields of Afgoye, not far from Mogadishu. He dreamed of greening the city and had already brought in flowering trees to plant there.
Somali social media was soon awash with comments from people whose lives he had touched. Many were accompanied by the hashtag #WeAreNotSafe.
Three days after he died, a rare demonstration was held in Mogadishu. Young people wearing white headbands held up banners emblazoned with phrases like "Stop Killing Youth". They asked how and why people like Mohamed were being killed, and why nobody was being held accountable.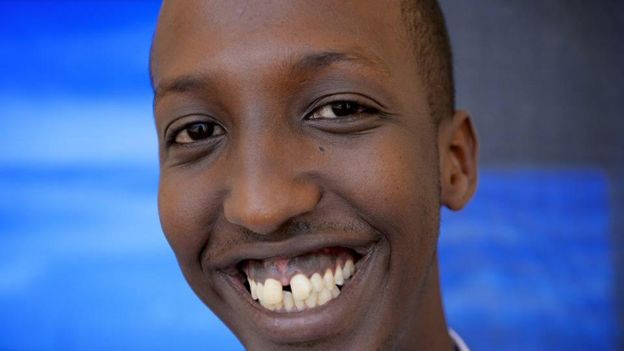 On that very same day, a car bomb exploded outside a restaurant in the city, killing at least three people.
I first heard about Mohamed when a friend called to tell me about someone who'd given up a safe, well-paid job in Dubai to return home and set up the first dry cleaners in Mogadishu for more than two decades.
I thought this would make a great story – Somalis like Mohamed, who'd lived in peaceful countries abroad, coming home to rebuild their nation.
The dry cleaning element also appealed. Every time I flew out of Mogadishu, politicians and businessmen would board the plane carrying vast piles of dirty suits to be cleaned in neighbouring countries. Once at a summit held in Ethiopia's most luxurious hotel, I was astonished to see Somalia's top politicians marching down the corridors with armloads of freshly dry-cleaned suits.
Mohamed had spotted an excellent business opportunity.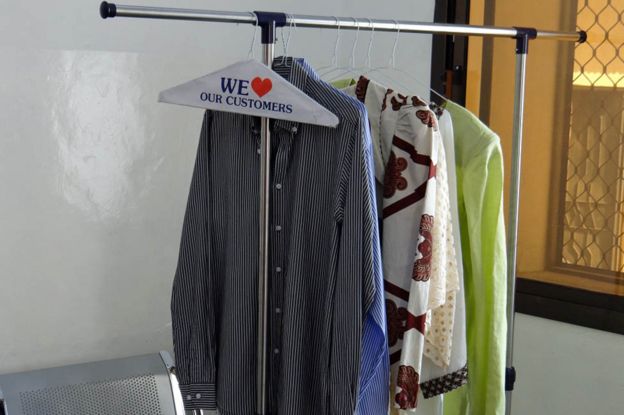 His murder has thrown up questions about the nature of violence in Somalia. About who is killing who. People often rush to blame the Islamist group al-Shabab which for more than a decade has spread terror in Somalia and beyond. But the jihadists are not the only killers.
It could be a politician who doesn't like what you do or say, a business rival… or caused by a property dispute, or plain jealousy. People are quick to reach for their guns in Somalia. I have been stuck in traffic jams where the guard in my car has rolled down the window and fired live bullets into the air, just to get the other vehicles moving.
Mohamed was not the only rising young star to have his life cruelly cut short. Abbas Abdullahi grew up in a refugee camp and was named a government minister last year. He was shot dead accidentally by the attorney general's bodyguards. Young journalists are murdered on a regular basis.
It seems strange that, with all the billions spent on security in Somalia, the presence of tens of thousands of African Union troops, US drones and special forces, there is little protection for people like Mohamed.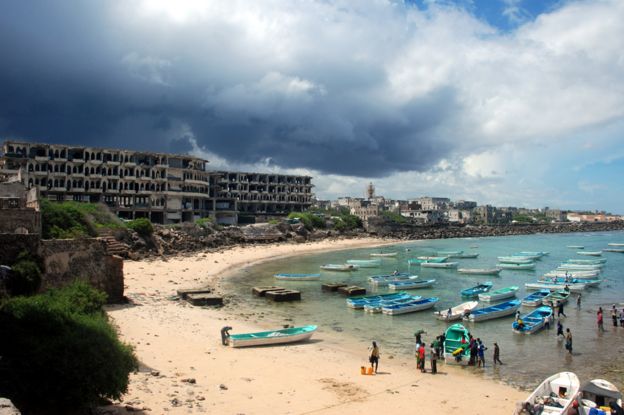 I keep catching myself thinking about him – about our friendship, his welcoming gap-toothed smile and his unswerving commitment to making life better.
I wonder about his businesses. Are they standing empty now, the dry cleaning machines quiet and still, the flowers wilting?
Is anybody watering the pots of plants he tended so carefully and sold to people trying to bring a bit of brightness into the homes and businesses they are rebuilding in Mogadishu?
BBC