Kasaye sits on his bed in the intensive care unit of the MSF health centre in Abdurafi, a bottle of soda and some cookies in his hands. He looks incredibly frail and the simple acts of drinking and eating seem to require immense effort. "This is the thirteenth time that I have come to MSF for kala azar treatment," he says.
Deadly disease
Kala azar (also known as visceral leishmaniasis) is the second largest parasitic killer after malaria, which makes it one of the most dangerous neglected tropical diseases in the world. Every year, it infects between 200,000 and 400,000 people mostly in Asia, East Africa and South America, and around 50,000 die because of it.
"I was first diagnosed with the disease in 2002," Kasaye continues. "I received treatment and the symptoms disappeared. I thought that I was cured."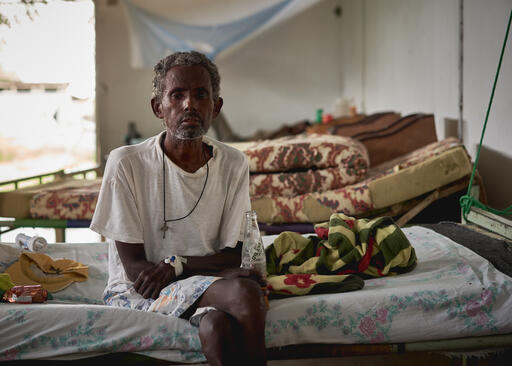 Difficult diagnosis
Diagnosing kala azar is complicated. Rapid diagnostic tests are the tool available in most health facilities, but they are reliable only with patients infected by kala azar for the first time (a condition called primary kala azar).
"The MSF clinic in Abdurafi is one of the few places in Ethiopia where the presence of active kala azar parasites in a patient's body can be accurately diagnosed", says Dr. Ernest. "To determine whether a patient is cured or not, or to diagnose kala azar in suspected relapse cases, a spleen or bone marrow biopsy is required. To analyse these samples, you need a specialised lab and here we have all the equipment we need."
The importance of this lab is significant. Mortality rates are up to 14 times higher in HIV co-infected and relapse patients. Therefore, a timely diagnosis is instrumental in saving lives.
"The majority of health facilities in the country do not have the tools or the expertise to perform many of the tests that we can do here. Some of them can also be very expensive, but MSF in Abdurafi offers all tests free of charge", says Mercy Oluya, MSF lab manager. "We brought in experienced lab technicians and all the necessary equipment. We are also training the Bureau of Health staff that share the lab with us and perform all the other routine tests for our patients."