Ms. Mulki Abdiqadir Mohamed receives her certificate
Three young people in Kismayo, Jubaland state of Somalia on July 25 received monetary awards and certificates for exceling in a blogging competition which is part of the innovative communication platforms encouraging the youth to actively engage in matters related to governance, peace and state building efforts.
The youth peer education network (Y-Peer) in Somalia is promoting youth engagement activities under the United Nations (UN) Peace Building Fund (PBF) being managed by UNFPA Somalia and UN Habitat Somalia.
The Y-Peer engaged 50 young people in blogging, which culminated into the competition that has seen the young people, participate in the writing contest. The competition was announced on local television stations, radios, schools and market places, according to Y-Peer Somalia executive director Mr. Mohamed Arshad.
"We've been supporting a blogging competition to award the youth that are excelling in writing on youth participation in peace building and governance, state building and constitutional review, violent extremism, corruption and nepotism," said Mr. Arshad.
He said the youth were required to write a blog of 900 words choosing either of the mentioned topics. "Participation was very encouraging. We had many young women participate in the competition," said Mr. Arshad.
The winner of the competition Mr. Mohamed Khalif Ismail wrote an article on youth representation in the state building process in Somalia.
"I developed the habit of writing at a tender age and I have now grown a passion for blog writing. One can leave a legacy through writing and I am encouraging my fellow young people to adapt writing as a habit," said Mr. Ismail.
The runner up in the competition Mr. Mohamed Abdi Farah wrote on the constitutional review process. He comprehensively articulated on the need to accelerate the efforts of reviewing the Somalia constitution to find ways of resolving the recurrent conflict between the federal government and member states. Mr. Farah articulated that the constitution review process should translate into addressing the needs of young people.
The second runner up in the blogging competition was 17-year-old girl Ms. Mulki Abdiqadir Mohamed. She wrote extensively on peace building and the prevention of violent extremism. She expansively expressed herself on how the youth have been affected by violent extremism and the role that young women are playing in countering violence and building peace. "My passion is to amplify the voices of young people for them to be able to express their vision for Somalia," said Ms. Mohamed.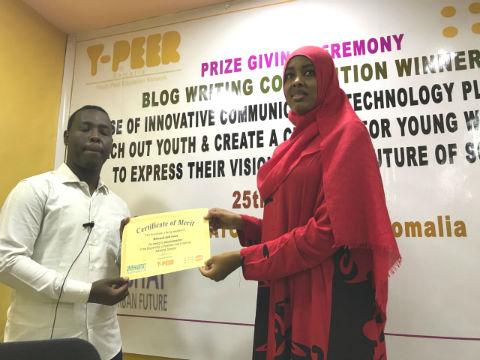 Speaking at the awards ceremony, Mr. Hassan Mohamed Abdirashid from the Ministry of Youth urged young people throughout Somalia to develop the culture of writing. He said Somalis continue to be an oral community and that this may not be beneficial in ensuring that there are written records on important issues such as youth empowerment.
Mr. Mohamed Hassan from Jubaland Ministry of Higher Education commended the UN for supporting youth empowerment pointing out that that Somali youth are becoming more and more successful. He encouraged the young people to fully utilize the opportunities available to them through the PBF.
According to Mr. Abdifatah of Jubaland Youth League there is need to have one voice among all youth-led organizations in Somalia for them to be able to push for a quota for young men and women in decision-making positions, remove the presidential age limit of 40 years and ensure that the constitution being reviewed takes into account youth issues.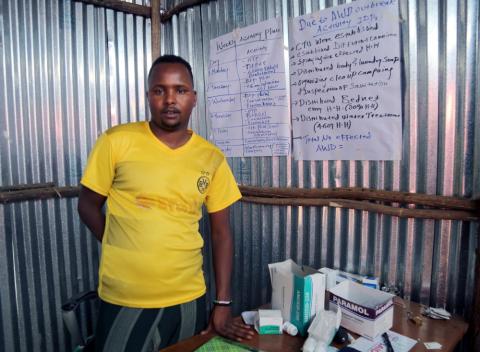 UNFPA Somalia youth programme analyst Ms. Fatuma Muhumed encouraged the bloggers to work on coming up with good content and good quality products for the blogs and to be consistent in their writing and posting to their blogs. She urged them to research comprehensively on youth issues and ensure that they engage the principle of "do no harm" in their writing.
"Don't shy away from critiquing on what is going wrong on governance and the society in general. Do not be disheartened by social media backlash and negative comments that come with critics. This is part of a healthy society," said Ms. Muhumed.
Ms. Balqeesa Sheikh from UN-Habitat Somalia advised the young people to stand for the truth in their writing for them to effectively contribute to social change.
"Youth are an integral part of the society and it is always important to support them to be able to express their thoughts and contribute to decision making," said Ms. Sheikh.
———————————————————
For more information please contact UNFPA Somalia Communications, Partnerships & Donor Relations Specialist Pilirani Semu-Banda on e-mail: semu-banda@unfpa.org