The only free ambulance service in Somalia's capital is under threat of closure and is having to use fewer vehicles, its founder has told the BBC.
Aamin has a fleet of 16 ambulances but can now only afford to operate 10 on a regular basis in Mogadishu, which suffers regular bomb attacks.
"If the service stops it will be difficult to save victims' lives," founder Abdukadir Abdirahman said. There are no publicly funded health services in Somalia.
The BBC's Ahmed Adan in Mogadishu says whenever a bomb goes off, Aamin ambulances are seen speeding to the scene to transport the injured to hospital.
Aamin, which means "faithful" in Somali, was started in 2006 and has become a vital part of the emergency services responding to attacks from al-Shabab Islamist militants, he says.
'They stopped me bleeding to death'
It is run by about 30 volunteers, including telephone operators, ambulance drivers, nurses and medical students.
Many of them put their own lives at risk by going into an area that is still under attack to get the injured people out.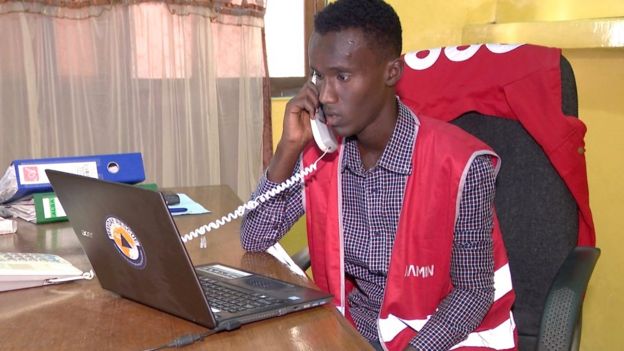 Every day, the Aamin helpline, which is open from 06:00 local time to midnight (03:00 GMT to 21:00 GMT), receives about 100 calls, with emergencies ranging from women going into labour to injuries from stray bullets.
But it is the ambulance service's work in the wake of bomb attacks that has become so crucial.
When a truck bomb killed more than 580 people in Mogadishu a year ago, many of the injured were ferried to hospital in private cars without first-aid support.
But Bile Adan Farah was lucky to have been collected by an Aamin ambulance, whose drivers are first-aid trained.
"When the metal [from the blast] hit my head, I fell down and fainted," he told the BBC.