South Sudan's President Salva Kiir and rebel leader Riek Machar
South Sudan's President Salva Kiir and rebel leader Riek Machar signed a much-anticipated peace deal at a regional summit in the Ethiopian capital Addis Ababa on Wednesday.
The two men signed a document and shook hands to cheers of support in front of a gathering that included regional leaders and delegates, according to an AFP journalist in the room.
The presidents of Uganda and Sudan were present at the summit that was chaired by Ethiopia's Prime Minister Abiy Ahmed.
"The eyes of the world are upon us as the South Sudan leaders commit today to press for reconciliation and lasting peace in their country," Abiy said at the start of a brief but delayed closed door meeting after which Kiir and Machar emerged to sign the document.
"Today we hope to begin a new chapter and a new opportunity to build a lasting peace and stability in the Republic of South Sudan," said Festus Mogae, a former president of Botswana who leads a ceasefire monitoring body set up by the regional bloc, the Intergovernmental Authority on Development (IGAD) that has brokered successive rounds of talks.
R-ARCSS is being signed by President Kiir, Dr Machar, Hon Changson and Hon Deng Alor. Witnessed by PM of Ethiopia and other leaders. Congratulations.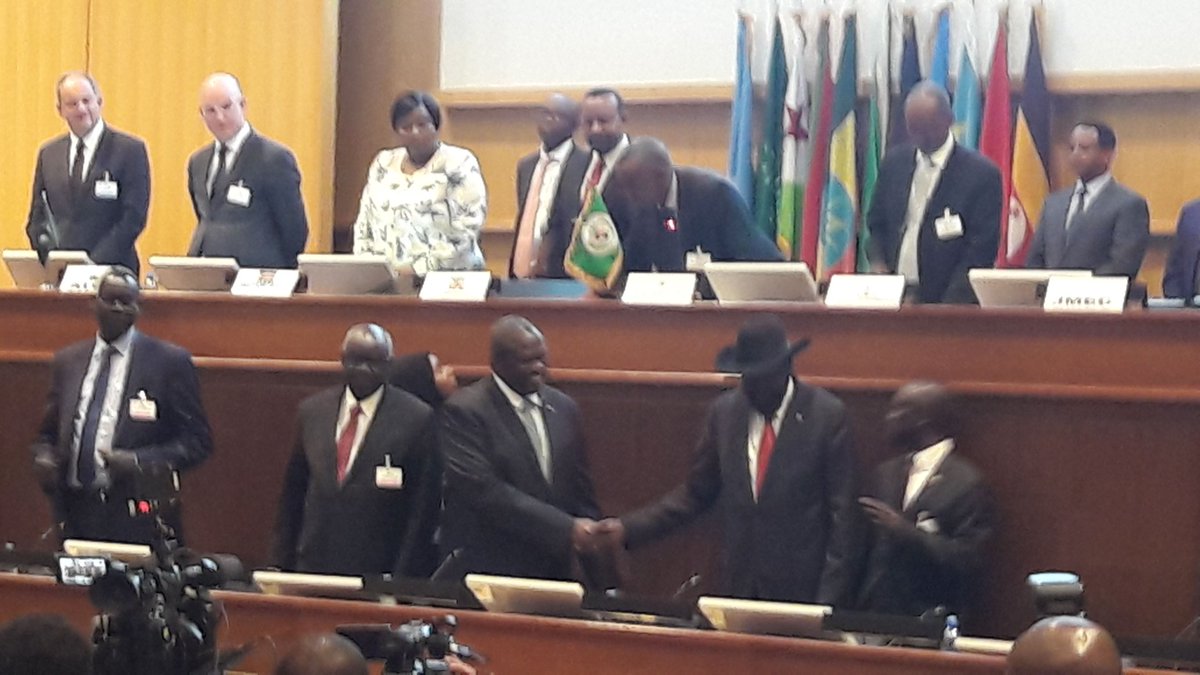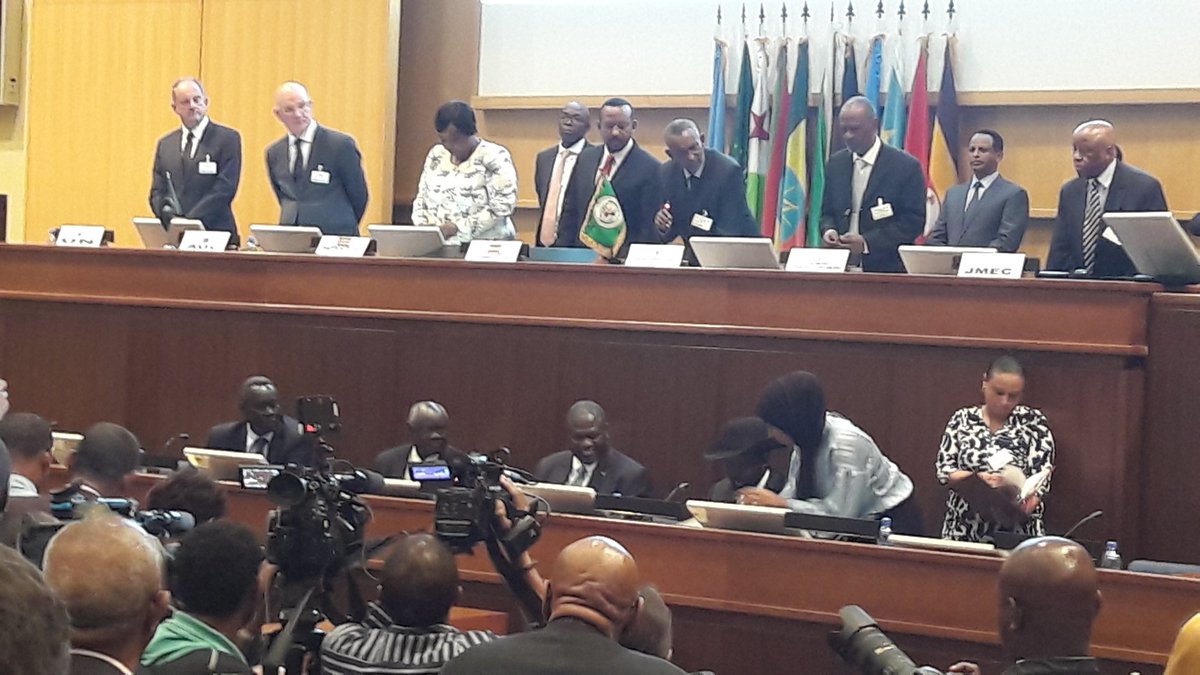 David Shearer, head of the UN Mission in South Sudan, echoed the hopes of ending the nearly five-year-old conflict that has cost the lives of tens of thousands of people, pushed millions to the brink of starvation and triggered a regional refugee crisis.
But he sounded a note of caution, saying, "With the signing of this revitalised agreement, we should publicly acknowledge it is but one step on the road to peace, but one which lays the foundation for all that follows."
South Sudan's latest war began in December 2013 when Kiir accused Machar of plotting a coup.
Several IGAD-brokered peace efforts and ceasefires have since failed, with the last agreement collapsing in July 2016 during days of fighting in the capital Juba that forced Machar to flee for his life.
Efforts to revive that agreement began in earnest in June this year with a face-to-face meeting between Kiir and Machar in the Sudanese capital Khartoum that led to the signing of a fresh ceasefire.
AFP