It is unlike any other city in the developing world – brilliantly planned with hardly any slums. As the cold war with Ethiopia finally ends, Asmara can at last look to the future
Nakfa House, a mammoth building by Asmara's standards, is a remnant of the last era of real optimism in Eritrea. Built in 1995, four years after the country broke away from neighbouring Ethiopia – the jubilant culmination of a 30-year struggle for liberation – Nakfa was intended to symbolise a country heady with ambition, and, in Asmara, a capital city racing to to be the Singapore of Africa.
It was also a mistake. At eight stories high Nakfa blocks the view southwards from the historic city centre along Sematat Avenue. Even more offensively, it looms over the Fiat Tagliero service station, an aeronautic icon of Italian-era futurism built in 1938, and perhaps the city's most beguiling building. Nakfa, just across the road, seems to be "trying to block the Fiat from flying", complains Dawit Abraha, assistant project coordinator of the Asmara Heritage Project. This ungainly high-rise – one of several built in the period – swiftly became a lesson in the dangers of misguided development, galvanising a nascent movement to preserve the city's architectural heritage, which led to Asmara being listed as a Unesco world heritage site in July last year.
Asmara is unlike any other city. Three years after Nakfa was unveiled, Eritrea entered a bloody border war with Ethiopia, which killed tens of thousands and brought the country's development to a standstill for two decades. Eritrea became a military state and Asmara's mini-boom came to an abrupt halt as the country entered an era of isolationism and the city's youth were conscripted to the front (many have yet to return). Thousands of young people still flee the country each year, though in July and August many wealthy Eritreans from overseas visit to see family and enjoy Asmara's tree-lined avenues, art-deco cinemas and picturesque public squares.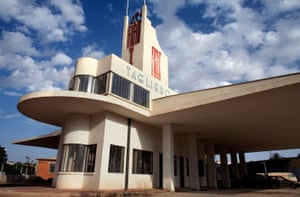 Almost nothing has been built since the turn of the millennium. Years of economic slowdown reveal themselves in worn-out facades, shuttered restaurants and half-empty corner shops. A town planning committee established in 1998 predicted that by 2015 the population of greater Asmara would be about 600,000, but current estimates suggest the number of permanent residents may be only half this. "It's like a ghost city," says Matsula T Kifle, a local music producer and veteran of the liberation war.